A younger looking or pretty face is no longer limited to privileged and rich ones. Given affordable cost and reliable cosmetic surgery procedures in India with facilities being available across various cities including Delhi, Mumbai , Hyderabad, Chennai, Kolkata and Bangalore, India has become one of the top destinations for Face list procedures and cosmetic surgeries for many who desire to improve their looks.
With word class facelift surgeons and comparatively lowers costs in India is driving attentions of many men and women of western countries. Many cosmetic medical tourists prefer to visit to India in seek for better looks through cosmetic procedures like facelift surgery, breast upliftment surgery, vaginal tightening, botox filling, or various other popular and affordable procedures, which saves on their expense and also gives them a rejuvenating tour to most popular country for travelers.
A facelift is a surgical procedure to improve visible signs of aging in the face and neck, such as: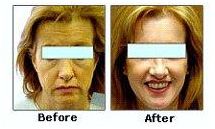 Sagging in the midface
Deep creases below the lower eyelids
Deep creases along the nose extending to the corner of themouth
Fat that has fallen or is displaced
Loss of muscle tone in the lower face may create jowls
Loose skin and excess fatty deposits under the chin and jaw can make even a person of normal weight appear to have a double chin
Procedure
During a facelift procedure, the surgeon makes an incision that typically begins around the hairline from the temple and curves around the earlobe, ending at the bottom of the hairline. The surgeon may also make a small incision under the chin to specifically tighten the skin of the neck.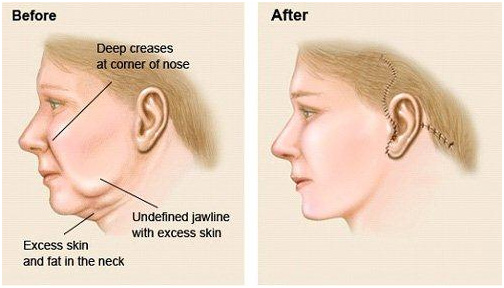 The doctor first separates the skin from the fat and muscle underneath. Excess fat is suctioned out (via liposuction) or trimmed to give the face a sleeker look. Underneath the skin is a layer of tissue called the SMAS (superficial musculoaponeurotic system). The doctor tightens this layer by folding it — pulling it back over itself, this lifts the cheeks, gives the jawline more definition, and firms the neck. Finally, the doctor pulls the skin back up over the area and removes any excess skin with a knife or laser.
The procedure takes 2 to 3 hours and is usually outpatient, although some patients may require a short inpatient stay. Anesthesia is general or occasionally local with sedation. For more details on facelift surgeries and costs for your case, please write to us with your requirements on queries@treataid.com or Call / WhatsApp / SMS on: +91-9811351519.